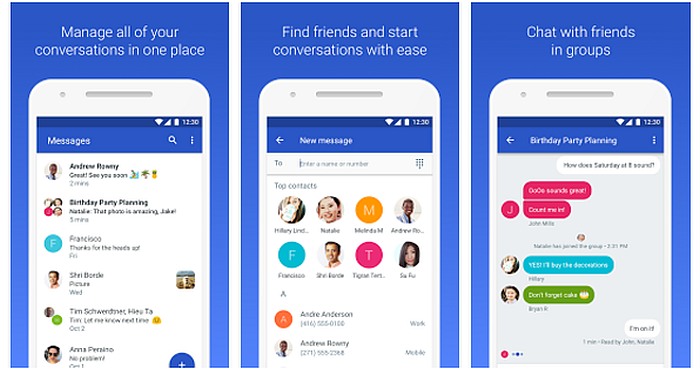 Just like any other instant messaging application, the Google Messenger app has got some unique features and other typical features. The Google Messenger (Now Android Messages) can only be supported by devices that run Android 4.1 (Jelly Bean) and up. The following is what you will get by installing this application on your Android device:
Get a faster sharing experience by just selecting the videos and picture directly from this app and then share them easily. With it you will also be able to share audio messages directly to your contacts.
Experience and easy search through your conversation threads and contacts and find exactly what you have been looking for.
Have an app that has been developed with a very powerful design. This is with its fluid, new and material design which is very delightful and intuitive.
Use a wide array of controls that offer you the ability to block some of your SMS senders. This is more so when you have friends who are addicted to chatting and you are not interested with communicating that that particular moment. It ensures that you don't get interrupted when you are occupied with other important things.
The app has also been equipped with very many features that include message archiving, colored text threads, emoji support, and audio messages among others.
Downloads
**Download Google Messenger for Android
Update: Now GM is Android Messages
Download Android Messages for Android