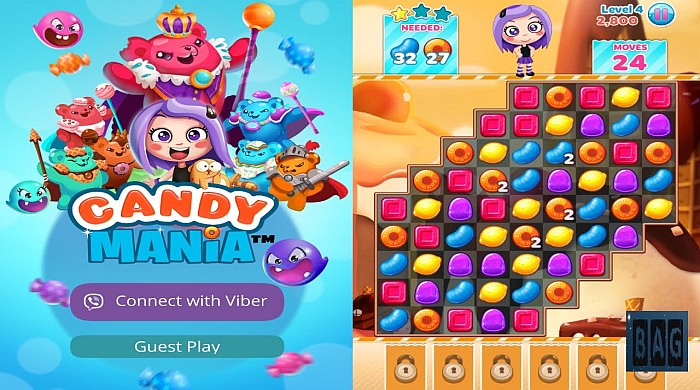 Viber Candy Mania and Viber pop are the leading mobile game network while Storm8 and Wild luck casino are the leading casual games developer with playtika. The games built using a new private API that allows users to sign in with their viber ID to connect with their friends and contact on the the app, send them gifts and brag about their achievements.
In addition user will be able to send game invites through viber and see what games their friends are playing. Different games will take the viber brand look and feature many of the characters that have already become popular staples of vibers sticker market. Through google play and App store the games will promote in the game section on viber and will be free to download. Access to extra features will be available through in-app purchases.
'Viber games is the latest features in our ongoing enhancement of the viber platform', said Micheal Shmilov, Viber's COO Viber games helps engaging people to connect within the app through bragging about their achievements, sending gifts and checking out what friends are playing.
The viber games app will let you play with your friends for rewards, send them gifts and game invites and check the leader boards. games are currently available within more to follow in the coming months.
Viber candy Mania by storm8 helps sweeten your day with a delightful new game. Follow viber 's popular sticker characters violet and legcat through the levels as one matches and collect candies in this sugar-filled puzzle adventure.
Viber pop by storm8 are the best bubble puzzle adventure games yet defeat the evil bubble wizard and rescue little buddies.however, one can play with his favorite viber character legcat.
Wild luck casino by playtika from the maker of slotomania an certified slots experience is at your fingertips with an exciting range of games to choose from .it all about playing with your friends to get a chances to win free coins and prizes and share the good vibes by sending gifts.