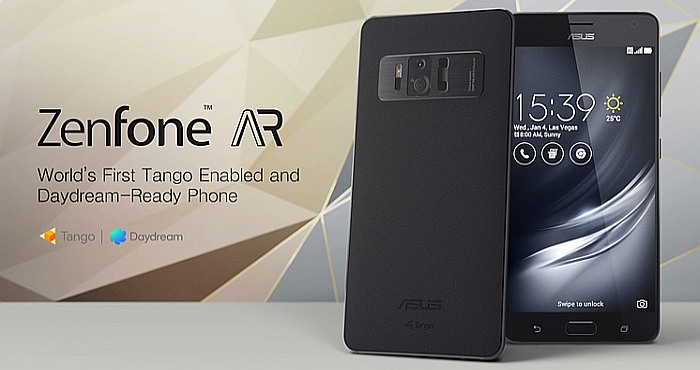 The Asus new AR smartphone implemented the new augmented reality technique by Google and the VR platforms, thus the phone needs to provide the larger amount of RAM. The Taiwanese big firm Asus put a high amount of RAM (random access memory) in its new smartphone named Asus Zenfone AR. This phone, which was released officially at the start of the year during the Consumer Electronics Show (2017), has come up with the RAM of 8 GB, which is the highest RAM ever made in the smartphones.
The largest amount for the smartphones was 6 GB previously, which is found in the models like the eEco Le Max 2, Asus Zenfone 3 Deluxe and Xiaomi Mi Note 2. Most of these phones were released at the mid of 2016. The phone rumored to have RAM of 8 GB from LeEco made its round during the mid of 2016 but didn't get materialized.
The configuration with RAM of 6 GB, however, has not reached the point of mass adoption in the flagships: not even in iPhone7, Google Pixel, or Samsung Galaxy Note 7, the RAM storage is less than 6GB. Generally, higher is the Ram, more amount of data can be stored in the system of the phone which can be further processed and transported in the given time, but, right now, for the power users 4GB is considered sufficient, the additional 2 GB are considered somewhat unwanted.
Thus why to go for the model having RAM of 8 GB? The Asus AR justifies this by including the adoption of the novel and high demanded smart AR (augmented reality) and VR (virtual reality) techniques by Google. It is ready for the DayDream, which is the next generation of the VR platform by Google, and for the DayDream apps. It is also prepared for the Google Tango, which is the next generation suit of the AR technologies.
For making it work, the company used the new TriCam system, which includes 23 MP rear camera, depth sensors and motion tracker – all of these can slow down the phone's processing. Other important specs of this phone are the Snapdragon 821 chip optimized for the Tango, 5.7-inch screen with super AMOLED display, and dayDream optimized speakers. The phone has 3300 mAH battery, with micro SD card slot for 2 TB and storage of 32 to 256 GB.